ENN and Cheniere Sign 13-Year LNG Sale and Purchase Agreement
11 October 2021
Source:
Browse volume:
On October 11, ENN LNG (Singapore) Pte. Ltd., ("ENN LNG") a wholly owned subsidiary of ENN Natural Gas Co., Ltd. ("ENN Natural Gas") and Cheniere Marketing LLC ("Cheniere Marketing"), a subsidiary of Cheniere Energy Inc. ("Cheniere") held a ceremony to commemorate the signing of a long-term LNG Sale and Purchase Agreement ("SPA"). Under the SPA, Cheniere Marketing will supply approximately 0.9 million tonnes per annum of LNG to ENN LNG on a free-on-board basis for a term of 13 years beginning in July 2022.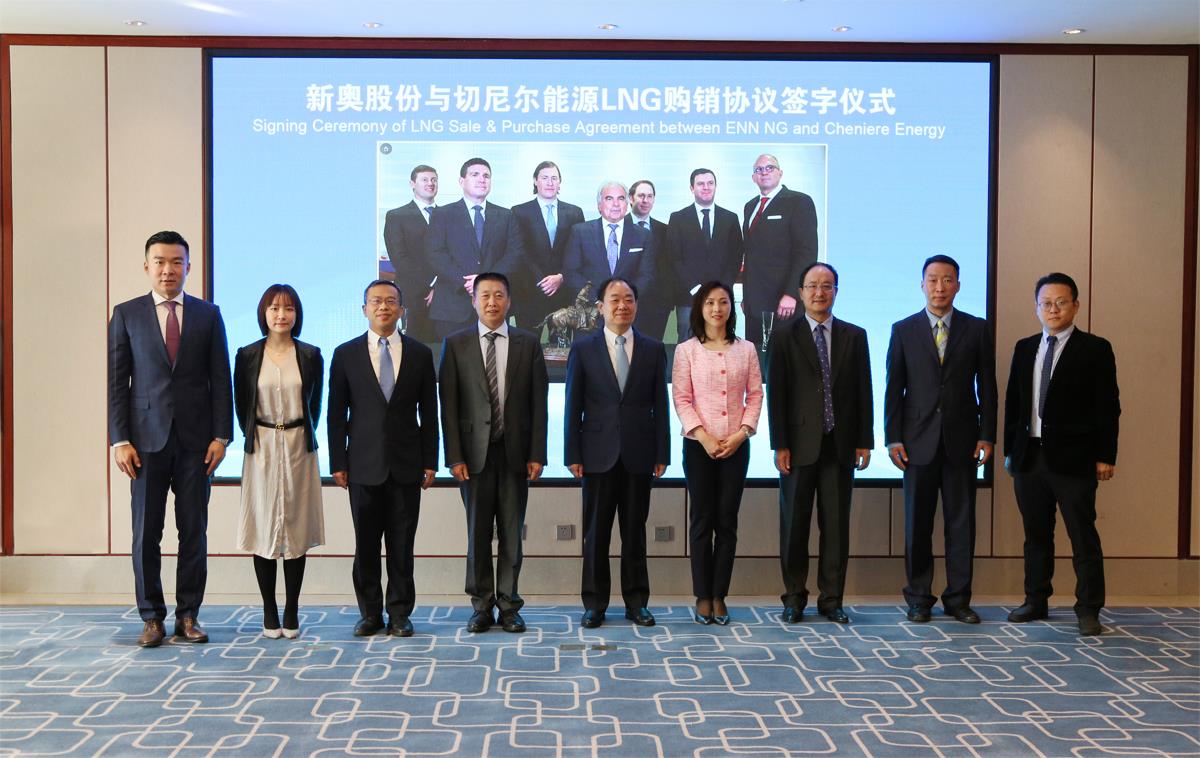 This is the first long-term LNG SPA since the completion of ENN Natural Gas' major asset restructuring in 2020. It marks the first cooperation between ENN and Cheniere in the field of LNG.
 "We are pleased to announce this long-term LNG contract with ENN, a major player in China's rapidly growing natural gas market, and we look forward to a successful, long-term relationship with ENN as a customer," said Jack Fusco, Cheniere's President and Chief Executive Officer. "This SPA underscores the strength of the global LNG market today, particularly in China, and highlights Cheniere's role as a leading global LNG supplier, tailoring solutions to help meet the long-term energy needs and environmental goals of our customers. The SPA also further advances Cheniere's commercial momentum and marks another milestone in our efforts to contract our LNG capacity on a long-term basis in anticipation of an FID of Corpus Christi Stage 3, which we expect will occur next year."
Wang, Yusuo, Chairman of the Board of ENN Natural Gas said, "China is making great efforts to achieve the goal of peak carbon emissions and carbon neutrality, boosting the reform of natural gas market, and accelerating the structural adjustment of energy consumption. As one of the world's leading LNG supplier, Cheniere has great advantages on resource production and supply capacity, which is highly compatible with the fast-growing natural gas market in China. ENN is accelerating the use of digital technology to build a modern energy system, and to promote intelligent upgrading of the natural gas industry. It is expected that the two parties will seize the opportunity of this cooperation to establish a strategic relationship, to provide clients with high quality resources and services, to make positive efforts to the realization of peak carbon emissions and carbon neutrality in China."
According to Zheng, Hongtao, President of ENN Natural Gas, this is ENN's first long-term LNG SPA that is indexed to the monthly Henry Hub price. Since the beginning of this year, due to the lagging of LNG production projects and low carbon transition of the energy structure, the supply of natural gas market is tight and the price is high. Through this cooperation with Cheniere, ENN will have resources linked with various indexes to further reduce procurement-related risks and optimize its resource pool.
Anatol Feygin, Executive Vice President and Chief Commercial Officer of Cheniere, said, "We are pleased to finalize this long-term agreement with ENN and to further support the growing demand for cleaner-burning natural gas in China. The SPA highlights the strength of the global LNG market today, as well as need for more reliable, cleaner energy supply across the globe. We look forward to a successful and mutually beneficial relationship with ENN for many years to come."
Under the goals of peak carbon emissions and carbon neutrality, China's natural gas demand is expected to stay strong. The average annual growth rate of natural gas consumption in China is approximately 11% in 2020 & 2021. It is estimated that China's natural gas consumption will reach 550 to 600 bcm by 2030.
ENN, through the cooperation with Cheniere and other partners, will continue to provide strong support to meet the growing demand of natural gas in China, promote the utilization of clean energy and achieve the goal of peak carbon emissions and carbon neutrality.
Cheniere Energy, Inc. is second largest LNG operator in the world, providing a clean, secure, and affordable solution to the growing global need for natural gas. Cheniere is a full-service LNG provider, with capabilities that include gas procurement and transportation, liquefaction, vessel chartering, and LNG delivery. Cheniere has one of the largest liquefaction platforms in the world, the expected total production capacity of its two LNG liquefaction projects is approximately 45 million tonnes per annum in operating and under construction.
As one of the largest private energy companies in China, ENN strives to become an intelligent ecological operator of the natural gas industry. ENN currently run the operation of more than 230 city gas projects nationwide and the first large-scale, private owned LNG receiving terminal in China – Zhoushan LNG receiving terminal. ENN's annual distribution capacity of LNG exceeds 10 bcm. Its business layout covers the entire natural gas industry including distribution, trade, storage & transportation, production, and construction. Replying on the industry practices, ENN has built a natural gas digital intelligence service platform GreatGas net, it accelerates the integration of demand, resource, storage, and distribution ecology of the natural gas industry. ENN is committed to the innovation and development of digital intelligence services to promote digital intelligence upgrade of the natural gas industry.